We can never engineer our own transformation. – Richard Rohr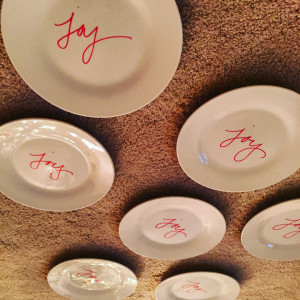 Before this year began I chose the word Faith to be my focus. It was a word that landed on easily and prominently on my heart as 2014 came to a close. I felt this deep desire, or deep need really, to grow in Faith. I didn't exactly know what that meant, but I knew I wanted to trust God more and worry less.
So, unassumingly the year began. With only mild expectation, probably stemming mostly from my thinking I was going to "study" faith through scriptures, books or introspection I suppose, I hoped I would walk out of the year with a little more faith then when it began.
And that's how this year started. This year which my little mind thought would be a chapter of pleasantly developing abundant unquestioning trust in God, but what turned out to be something vastly vastly different.
Standing here in December 2015, looking back on all that happened in the past 12 months, I could sum this whole year up in one word…but I wouldn't pick Faith. I'd sum it up in the word trials.
2015 was a year of trials. One right after the other. I wish I was talking about the daily dilemma's like "Oh shoot. I got red wine on my favorite shirt. Let me google how to get this out." No. I'm talking about loosing loved ones, big relationship shifts, overpowering heartbreak, huge new questions, a relative battling inoperable cancer, and biggest of all, my family facing the single most intense season of struggle in our lives thus far.
It was unbelievable. A year I wouldn't wish on anyone. A year I would never want to walk through again.
And yet….
And yet, I in no way would remove it from my story or deny any of it happened.
Because here I stand, in December 2015, looking at myself now and remembering the self that walked into this year, and I see a different woman. Good different. Not a woman who has more answers than she did in January. Definitely not. But I see a woman who feels a little steadier, a woman who is more able to take an honest look at life and embrace it as it is, a woman who believes God is bigger than all the hells she's faced, bigger than all the questions and fears she has, a God who loves beyond her short comings and who is always able despite her inabilities.
I don't know about you, but I might call that Faith.
It seems to make absolutely no sense at all. I didn't feel it happening. I didn't enjoy a lot of what went on. But after this year, I can almost grasp why James tells us to call trials "pure joy" and Paul commands us "rejoice!" when we face them.
Count it all joy, my brothers, when you meet trials of various kinds. For you know that when your faith is tested, your endurance has a chance to grow. So let it grow, for when your endurance is fully developed, you will be perfect and complete, lacking nothing. – James 1:2-4
In this you rejoice, though now for a little while, if necessary, you have been grieved by various trials, so that the tested genuineness of your faith—more precious than gold that perishes though it is tested by fire—may be found to result in praise and glory and honor at the revelation of Jesus Christ. – 1 Peter 1:6-7
Although this year was full of hardship, it was also full of God. And that makes it a beautiful year.
Faith came from this year, this hard hard year. For that, I am incredibly grateful.
I thank God for the Faith He gave me out of this year. I didn't want to go through these things, but He knew I needed to. He knew I needed to be opened, I needed to see my need, I needed to know I was powerless. I needed to learn that the less and less of me I can hold onto, the more of Him my life can hold.
Maybe like Mary at Christmas, what we need is to become empty enough to be filled. Sacredly empty, open, receptive to God working exactly how He wants to work – even in and through the things we'd wish He'd rather not.
So this Christmas, this New Year, may we all keep pressing on in this journey of surrendering our little pictures of how life should go in order to embrace the always more inclusive, always better, always Bigger Picture from God.
May we all choose to continually let go and fall into the flow of Faith gifted through trial.
Because each and every trial, each and every moment up until this point has made shaped us and has been filled with God. Immanuel. God with us. 
If anything, that is pure joy!
Extra Musings and Random Thoughts
Although I'd like to attribute all these thoughts to me just being insightful – that's not the truth! Both Ann Voskamp's & Richard Rohr's devotionals opened me up to seeing how our lowly places (humility, vunerability, need, powerlessness, confusion, ruined plans…) are all "sacred emptiness" for God. So cool! I've just seen that happen and wrote about it. Now I try not to resist the hard as much as say "ok I hate this! But I'm ok with it. God's still here and maybe even more so."
Loved my holiday trip to NYC last Saturday. First December NYC trip ever where is was 60 degrees!! We didn't even wear winter coats!
Already went to my church's Christmas gatherings – so good! I am so thankful for LCBC and the people who make it. There are still plenty of chances to check it out this week.
Enjoyed a Christmas concert by a husband and wife band called House Project this past Friday. Very good musicians!
Saturday I had 14 ladies (!) over to my little home for Christmas Brunch. I'm always amazed and grateful for the family I have. Love holiday time with them.
Merry Christmas everyone!