It's  been years since I've posted a recipe on here, but by popular demand, here's the recipe I made for my last book club brunch. I created this one from a fritatta I had in Brooklyn with the same ingredients. When I took one bite of that fritatta I knew I'd be creating it into a quiche to share when I got home! What I love about the quiche recipe I use it's it's simplicity and ease. You can also make it fully or a step or two ahead of time, freeze and enjoy when you're ready by completing the recipe or by reheating a finished quiche and browning the top to finish.
Enjoy!
Ingredients
Vegetarian, Gluten free
Serves 6-8
Produce
1 cup Butternut Squash, cubed
1 cup Broccoli, cut small
2 cloves Garlic, minced
1/4 cup Spring Onion, minced
1 tbsp Thyme, ground (optional)
5 Eggs
1/4 tsp Black pepper
3/4 tsp Salt
1/4 cup Shreeded Cheese (I used Havarti)
2 oz of Herbed Goat Cheese
3/4 cup Milk
2 tbsp Parmesan cheese, grated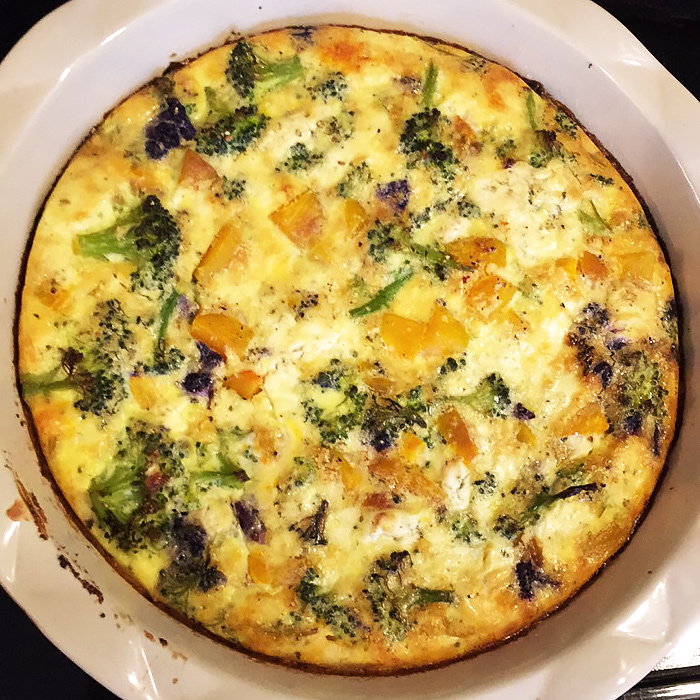 Directions
Preheat the over to 400°.
Oil a pan and coat the broccoli and squash with a little oil. Sprinkle them generously with salt and pepper. Roast for 15-20 minutes until they are not fully cooked through. (They take longer than the quiche, so pre-cooking the vegetables makes them soft enough to cook through during the quiche's baking.)  Remove from oven. (You can freeze for a week or chill veggies for a day ahead of time and complete following steps when you're ready to eat). Lower oven temperature to 350°
Rub a baking dish with butter or oil to prepare. Sprikle 1/4 shredded cheese in the bottom. Sprinkle roasted vegetables, garlic, spring onion, thyme if using, salt and pepper evenly covering the dish. With a knife or fork, chunk goat cheese evenly throughout. You can use more or less according to your taste.
Blend eggs, milk and pour mixture over the dish. Sprinkle the top with parmasean cheese.
Bake at 350° for 45 minutes or until the middle is solid. Put oven on broil and brown top gently before removing from the oven. Serve and enjoy! (You can freeze the entire quiche for a week or two and it will taste just as delicious.)
Happy baking!