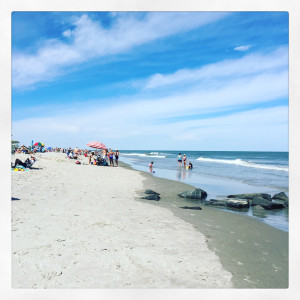 Right now I'm living a lot of unknowns.
That's how it is with life isn't it? We are surrounded daily by questions. "How?"s, "When?"s, "Why?"s, "Who?"s and "How long?"s all over the place. Life is in a lot of ways out of our control. It's an unfolding, a path that's created the moment we step, we breathe, we live a moment.
Often though, if you're like me, our minds run wild with stories attempting to answer all the questions that surround, hit, haunt us. If we aren't mindful, they will certainly over take our internal life.
The desire to want answers is not a bad thing itself. Who doesn't love a good answer? Getting answers can help us feel secure, steady, safe, grounded. We sense an "ah ha!" or "I got it!" when answers are found. It simply feels great to be in "the know".
But the reality is that life is unknown. Your next breath will be different from this one. You next moment will be unwritten until it's lived. And your tomorrow is a blank slate until you walk through it.
So back to our thought life, if our minds are allowed by us to run wild into the stories of tomorrow, we will ultimately never live in our todays. We will live them, but mentally be outside of them.
This week I realized my mind was getting caught in the stories. In the "I don't see how this thing's going to work…" "How in the world will I be able to…" and the ultimate story maker "What if…". You fill in your familiar stories. I know this is not unique to me. It's that search the known. 
This year when I chose the word "Savor" to lead me, it was because I want to be a woman who lives her now. Lives her now so well people are able to see I embrace the life I am given and therefore subliminally tell them "You can live, embrace and love your life too."
So today my focus is to love the questions. Love the moment I'm in in all it's unanswered glory. Love today because today is what I have and each breath is a gift I cannot manufacture but only receive.
So may you on your own journey, start to ask yourself what stories your mind is running away with. What are the "what if"s?, the "when"s?, the "how"s? your mind is trying to fill in which are keeping you from living fully awake and present in your today, the only day you really ever have?
Once you see the stories, the questions you're trying to answer, can you then begin to lay them down at the feet of Faith. May you love yourself enough to live brave, to let go of the mental desire for control, that want to feel safe through knowing… so you can live fearless in the face of life's necessary unfolding held by the only One who truly ever knows your tomorrow.
I want to leave you with a quote that I stumbled upon that has been a gift to my heart and mind lately. Enjoy.
"Have patience with everything that remains unsolved in your heart. Try to love the questions themselves, like locked rooms and like books written in a foreign language. Do not look for the answers. They cannot now be given to you because you could not live them. It is about experiencing everything. At present, you need to live the question. Perhaps you will gradually, without even noticing it, find yourself experiencing the answer, some distant day."

– Rainer Maria Rilke
Extra Musings and Random Thoughts
If you want to read an excellent and easy to get through read on living more present and fully alive, check out Rob Bell's latest How to Be Here. It's phenomenal. Everything I'm about right now in one simple book. Brilliant stuff.
That picture is from a wonderful 2 day solace I had with a new close friend. A perfect example in life right now that we cannot plan the future is the community of several new deep friendships God's given to me over the past year. Couldn't be more grateful for that totally unknown gift.
Switchfoot, a band that was my favorite over a decade ago and for many years after came out with an excellent new album with lyrics that are worth your time if you're looking for new music. Check it out on Spotify.
If you're a music junkie and want a song to take you through the unknowns (and don't mind a little swearing), Maybe IDK by Jon Bellion will feed your soul. Listen Here.