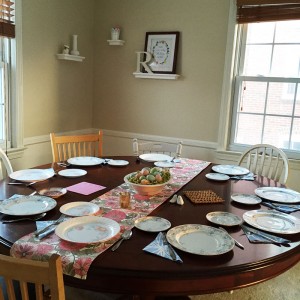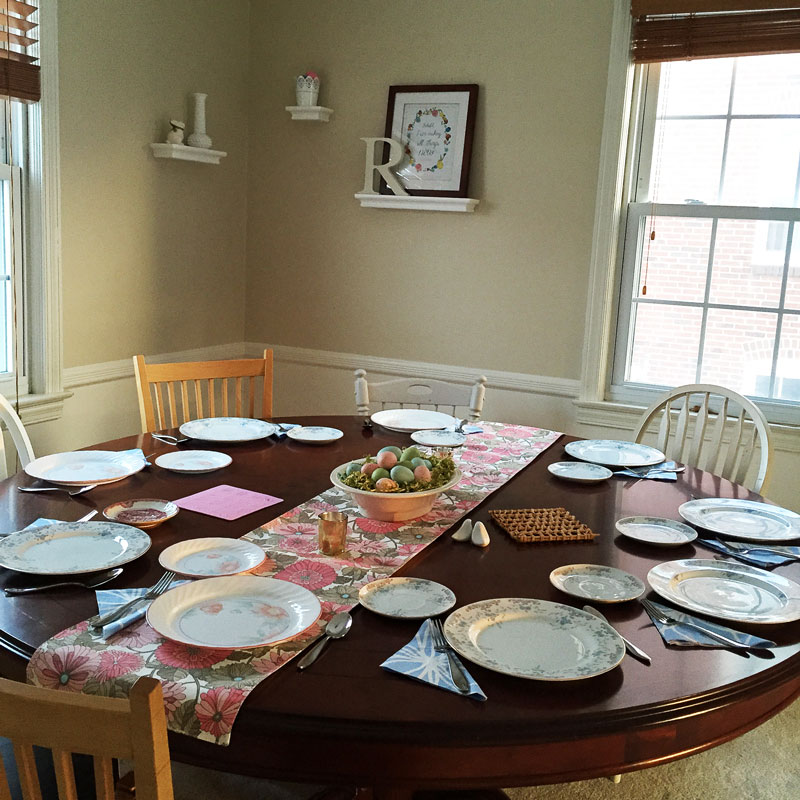 As I mentioned in the previous post – Every Spring I like to create a host a brunch for the wonderful women God has placed in my life. Family & friends, cultivated & new, all together for the sake of joy and appreciation.
It's fun for me to dream up and plan a multiple course menu and have an excuse to get out the China!
This year I planned three courses which all worked beautifully together! However, the real blessing was the women who shared in the morning – comfortable longtime life-giving relationships as well as new introductions – all simply because they're each a gift in my life.  So thanks to everyone who came (and those who couldn't).  Your life makes mine better!
Alright, now for the fun part of sharing this… Recipes, photos and prep tips.  One recipe I created which I share below, two others are recipes I selected and modified only slightly.
Menu
Fluffy Baked Egg, Herbed Goat Cheese and Spring Vegetable Casserole
Peach & Blueberry Cobbler
No-Bake Lemon Cheesecakes with fresh berries and lemon cookie crust
Recipes
Fluffy Baked Egg, Herbed Goat Cheese and Spring Vegetable Casserole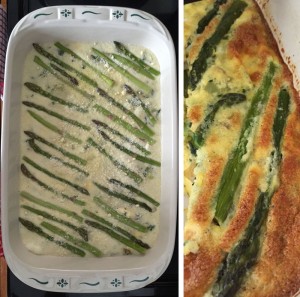 This recipe turned out exactly as I hoped! By beating 3 of the egg whites in the mixer and folding them into the remaining ingredients you get a dish that is light and airy.  The goat cheese, herbs and vegetables give it a decadent quality – creamy and full of flavor.  From the words of my cousin "I don't like eggs, but these are delicious!".  Wish I had a baked picture for you! I was lost in the joy of the moment… next time!
Ingredients:
12 eggs; 3 separated
1 cup of milk (I used %2, any % should work out fine.)
1/2 cup minced sweet onion
1/3 cup chopped spinach (I used some I had frozen, fresh will do just fine)
3/4t Salt
Pepper to taste
4oz log of goat cheese rolled in herbs (This can be found at most grocery stores near the specialty cheeses. If you are unable to find it, you can recreate it by buying goat cheese and mixing in your own herbs. About 1 T dried herbs would do – parsley, dill, basil would all work well together)
1 bunch asparagus, washed trimmed and cut into 3-4″ spears.
Parmesan cheese for sprinkling
Directions:
Set out 3 egg whites in your mixer bowl to come to room temperature. Preheat oven to 450°F. Grease 9″ x 13″ baking dish with olive oil spray or butter.
In a large non-stick skillet coated with oil, stir fry sweet onion and spinach over medium-high heat. Add the salt and pepper. Stirring often, cook until onion is translucent and fragrant to bring out it's sweetness. Transfer to a plate to cool or a container to cool overnight if you are making these one day ahead.
Wisk together 9 eggs, 3 egg yolks, and milk until smooth. Add cooled vegetables, stir to combine.
Beat 3 egg whites at room temperature on medium-high for 5 minutes or until stiff glossy peaks form.  Cut log of goat cheese into small pieces.
Gently fold egg whites and goat cheese into egg mixture with a rubber spatula. Pour into prepared dish.
Gently lay asparagus spears on top in a diagonal pattern. They will rest on top and not sink into the mixture.  Sprinkle dish with parmesan cheese.
Bake at 450°F in the upper third of the oven until puffed, golden and set; about 20 minutes.  If you have trouble getting the center to firm, cover with aluminum foil for 5 minutes at the end.
Enjoy alone or with a nice side salad and crusty bread.  (Thank you to the generous gifts of my aunt and mom we had both!)
I added 1t Lemon Zest, mixed all of the dry ingredients and wet ingredients separately the night before. To make the display beautiful, I laid one bag of frozen peach slices in the pan first, then carefully placed 1 bag of frozen blueberries around them.  This is a delicious and easy recipe!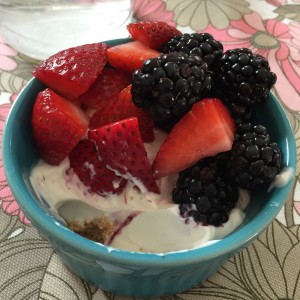 I doubled the cheesecake recipe, did 1/2 honey and 1/2 sugar for the sweetener, added 1T Lemon Zest, and made my own cookie crumble for the bottom from this delicious Lemon Cookies recipe. Just make the cookies, place them in the food processor and voila, crumbs. All of these tweaks made these desserts incredibly scrumptious and special! We topped ours with fresh strawberries and blackberries. Any fresh berry will do. I'll be making these little cheesecakes and the cookies again for sure!  They are delicious.
Some of the lovely company I get to do life with.